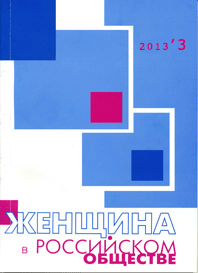 "Woman in Russian Society" journal has been published in Ivanovo State University since 1996. The publication frequency is four issues a year: 31 March, 30 June, September 30th, December 30th.
In 2008, the journal was included by the State Commission for Academic Degrees and Titles of the Russian Federation into the list of leading peer-reviewed journals and publications, where major scientific results of candidate and doctorate dissertations should be published (as amended on 19.02.2010)
Over the past years, the journal has become one of the Russian centers for the development of gender approach methodology in the research of social policy and family relations, political science, management, economics and culture.
The important objectives of the journal are to promote the institutionalization of gender studies and gender education in Russian universities; integration of the Russian scientific community on gender issues; monitoring the impact of management decisions on the social well-being of women and men; PhD students and young scholars support.
The journal publishes articles on theory and methodology of gender studies, gender aspects of public policy, evolution of women's and men's social status in the Russian society, gender pedagogy, psychology, sociology, history and contemporary issues of women's movement. A significant place is devoted to the results of sociological research on public opinion and evolution of the value and normative system of the Russian society.
The journal also provides educational materials for teachers of the Humanities, various curricula, and roundtables materials on topical issues of the journal.
To get further information on publication terms and application for the journal, please contact us by e-mail:
gafizovanb@mail.ru, kodina_inna@mail.ru, riabova2001@inbox.ru
The journal Imprint ISSN 1992 – 2892.
ISSN 2500-221Х (online)
The journal is registered with the Ministry of Press, Broadcasting and Mass Communications.
Registration Certificate №77-16955 of January 9, 2004.
Subscription Index in «The Russian Press» catalogue —41513.